Decorative Aluminum
Our extensive selection of DeZINE® fine aluminum surfaces is available in a variety of decorative finishes to meet your specific commercial and industry needs.
Embossed Finish
The advantages of an embossed reflective aluminum finish are twofold. Embossed aluminum will provide a visually stunning and textured finish tailored to your specific interior design needs, while simultaneously improving the optical aesthetics of your space through high diffuse light reflection.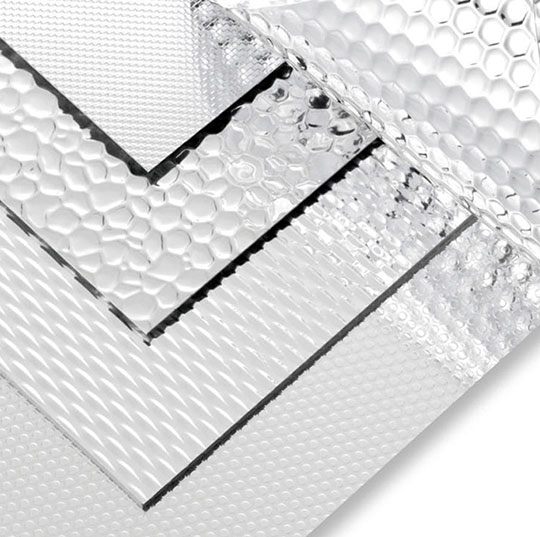 Our pre-treated anodized embossed aluminum creates the perfect canvas for added texture. For visual appeal or flattering optics, embossed DeZINE® aluminum is the perfect selection to add aesthetic value to interior/exterior applications that require resistance to wear and the ability to mask minor scratches, fingerprints and scuff marks.
In lighting applications, embossed aluminum's ability to mimic the appealing effects of natural sunlight provides soft, uniform lighting without any harsh glare or unwanted lighting 'hot spots' often found with specular surfaces. Instead, diffused light creates a warm, evenly lit environment, perfect for interior or exterior spaces.
Anomet's dedicated staff is always available to provide more detail about the variety of embossed finishes available to meet your project requirements.
Colour Anodized
Anomet is pleased to offer a variety of colour anodized options from our DeZine® line to fit your needs. For a beautifully accented interior or exterior space, consider DeZine® colour anodized aluminum for your next project.
The electrolytic colour-in process deposits metallic salts into the anodic pores of the aluminum, this unique process results in 100% UV-proof, fade-resistant colour that is guaranteed to last. Over time, your custom aluminum surface will maintain its aesthetic appeal.
With our distinct DeZine® decorative finishes, you can tailor your aluminum surface to perfectly match the unique design and décor of your building.
Colour anodizing involves a carefully controlled process where an industrial chemical is applied to the aluminum surface to create a porous environment, allowing the aluminum to easily and effectively absorb colour dyes. After the ideal colour and tone is achieved, the aluminum is coated with a protective seal to preserve its visual integrity.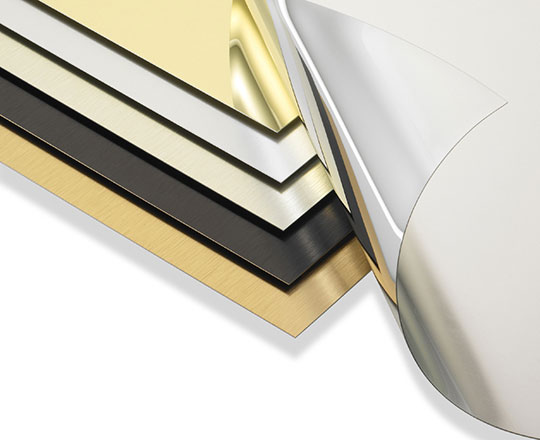 Anomet utilizes the most advanced, continuous coil process technology to treat and colour the aluminum for maximum vibrancy and durability, making it a great way to take advantage of aluminum's natural versatility and customize the selection to fit your distinct space.
The extensive pre-coating process promotes perfect forming, resulting in a durable, flexible and damage-resistant final product, suitable for both interior and exterior use.
Specify Anomet's DeZINE® series of decorative aluminum for a signature design.
Fancy Surfaces
With several distinct DeZINE® finishes to choose from, Anomet's decorative aluminum surfaces can transform any area to meet your ideal look and style.
Fully integrate your aluminum surface into the functional and visually appealing design of your space through the use of our many finishing options. Allow your aluminum finish to enhance your space, as each reflective surface establishes an entirely unique lighting scenario, opening each area to a world of possibility.
Your reflective surface will open up your room, creating the illusion of height and depth where it's needed most. Beautiful, reflective surfaces will naturally enhance the architectural design, and maximize your space.